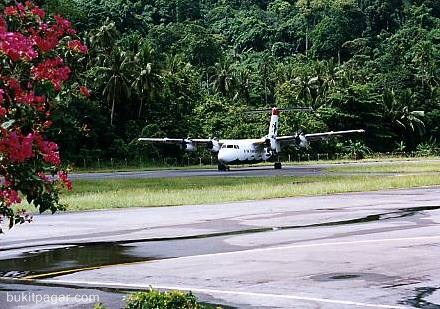 From Kuala Lumpur By Air: Berjaya Air from the OLD Subang airport.
Tel no: 60-3-7465640 or 60-3-7465641. Berjaya Air is a subsidiary of the Berjaya Resorts group, and transports guests to the Berjaya Resort on Tioman. The service is also available for those, who are travelling to Tioman, but not staying at the resort. Berjaya Air has several Dash 7 aircrafts, which are 48-seaters. They look small, but they are safe, with experienced pilots and friendly cabin crew. By the way, don't be squeamish if at first you don't spot the landing strip. There IS one! We are told the pilots practised landing on postage stamps prior to taking this gig.
From SINGAPORE (XSP-Seletar) to Tioman Island(TOD)
Adult
SGD111.00
SGD222.00
SGD19.00
SGD22.00 + MYR45.00
SGD1.70
Child
SGD56.00
SGD112.00
SGD19.00
SGD22.00 + MYR45.00
SGD1.70
Infant
SGD12.00
SGD24.00
SGD3.00
SGD6.00
N/A
Flights: 2005 (flight time approx 1 hour)To Tioman Island(TOD)
1234567
J8 188
0940
1040
Dash 7 (48-seater)

From TIOMAN ISLAND (TOD)
To Kuala Lumpur (SZB-Subang)
1234567
J8 185
1310
1410
Dash 7 (48-seater)
To Singapore (XSP-Seletar)
1234567
J8 318
1100
1140
Dash 7 (48-seater)
| | | | |
| --- | --- | --- | --- |
| Passenger Type | Airfare | Airport Tax + Insurance Surcharge | Excess BaggageCharges per Kg |
| One-way | Return | One-way | Return |
From KUALA LUMPUR (SZB-Subang) to Tioman Island (TOD)
Adult
MYR214.00
MYR428.00
MYR11.00
MYR22.00
MYR3.30
Child
MYR107.00
MYR214.00
MYR11.00
MYR22.00
MYR3.30
Infant
MYR22.00
MYR44.00
MYR5.00
MYR10.00
N/A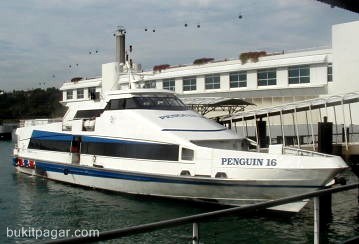 By Land/Sea:
If you are not flying to Tioman, you have to get to Mersing, a small coastal town in the state of Johor, and from there take a boat to Tekek village, Tioman.
You can get to Mersing from most points of the compass by bus. From KL, take a bus from Puduraya bus station; from Johor Bahru - Larkin Bus Terminal; and if you are on the east coast, you can get a bus from most of the main towns (Kuantan, Terenggannu, Kota Baru) to Mersing.
On the KL-Mersing route, buses are operated by Transnasional. From KL (tel: 03 20311430) they leave Puduraya bus station three times per day, at 11.00 am, 10.30 pm and 11.00 pm. Travel time is approx. 6 hours (!) and the cost is RM 19.50 single.
From Mersing (tel: 07 7993155) there are four services, at 11.30 am, 12.30 pm, 6.30 pm and 10.00 pm. Travel time and fare are the same as the KL-Mersing journey.
Once you get to Mersing you will have three options to get to Tioman, details of which are given below.
Mersing - Tioman: boat options
BOAT
TIME (hrs)
OPERATOR
CONTACT
RTN FARE
Speedboat
1.5
Auto Mersing
07 799 6019/3123
RM 70
Speedboat
1.5
Blue Water Express
07 799 5696
RM 70
Catamaran
2.0
Auto Raider
07 799 2582
RM 60
Slow Ferry
3.5
Seagull Express
07 799 4297/2398
RM 50
Please note:
| | |
| --- | --- |
| 1. | Ferries do not depart on a regular basis, but are dependent on tide levels. Sometimes you wil be transferred by a smaller boat to the waiting ferry, just outside the harbour. |
| 2. | Departure times for other boats also vary, and even though you might be given a certain departure time it is common for the boats to wait in the harbour for 30 minutes or more to get as many passengers as possible. Be patient - you are on holiday! Travel times are approximate, and depend on sea conditions. |
| 3. | Before leaving Mersing you will be asked to pay the RM 5 Marine Park Conservation fee. |


From Singapore:
During the season (March - November), a fast ferry runs from Singapore directly to Berjaya Beach Resort in Tioman (have a look at the photo below). Journey time is 4 to 4.5 hours, depending on sea conditions. From there Tekek village is about 10 mins by bus/car. Please note that this ferry service starts some time during March when the monsoon season has finished and sea conditions allow.
The ferry departs at 08.30 from Tanah Merah Ferry Terminal, near Changi International airport, and arrives Tioman at 12.30-13.00. The return ferry to Singapore leaves Berjaya at 14.30 and arrives in Singapore around 18.30 - 19.00
Bookings via Penguin Ferry Services, Singapore.
Tel: 65-2714866/5427105/2781978. Fax: 65-2733573/2759861
Tioman Office: Tel: 09-4191000, ext 1545. Fax: 09-4191718
Rates, Singapore - Tioman
CLASS
SUN-THURS
FRI-SAT
Single (S$)
Return (S$)
Single (S$)
Return (S$)
Adult
98
148
100
168
Child (2-12 yrs)
58
98
68
108
Infant (up to 2 yrs)
12
18
12
18

Rates, Tioman - Singapore
CLASS
FARE (RM)
Single
Adult
190
Child (2-12 yrs)
130
Infant (up to 2 yrs)
29
A cheaper way to get to Tioman from Singapore is by bus to Mersing and ferry from there to Tioman (see above for information on ferries).
The easiest way seems to be Transnasional direct from Singapore to Mersing: departure from Kallang Bahru/Lavender Street junction (lorry park) at 9am, 10am and 10pm. Only S$ 11.10.
Call Pan Malaysia Express: 2947034, or 2947035. Fax 2991952.
Alternatively catch a bus from the terminal at Queen St/Ban San St. Take the Singapore-Johore Express directy to Larkin Bus Terminal in Malaysia. Only S$ 2.40, aircon.
From LBT, take Adikberadkik Express service at 9.00am, 10.00am, 9.00pm and 10.30pm (ticket counters no 6 & 30) or Transnasional service at 10.00 am, 11.00am, 10.30pm and 11.00 pm.
Remember however, that if you leave Singapore too late, you might not be able to catch a ferry or speedboat in Mersing the same day. It's always best to try to be there as early as possible.
Information subject to change without notice.