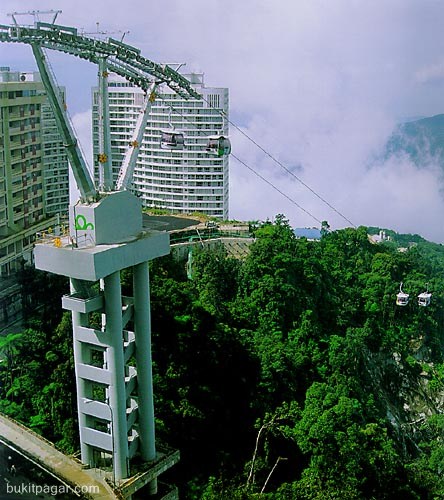 When I told my Malaysian friend (Chinese) of my plans going to the Genting Highlands, he didn't react very enthusiast. Perhaps he was never been there.
"Have you ever been there", I asked him.
"Yes", he answered, "A long time ago I've been there several times for my holidays. We rented with some friends a bungalow. The last time I've been there must be ten years ago".
"Didn't you like the Genting Highlands You're not so enthusiast. Do I have to change my plans and go somewhere else", I proposed.
"No", was his answer, "You must go. You must go to the casino and see, how Chinese gamble!".
And so I drove in my Rental car on the road from Kuala Lumpur to Kuantan. The four-lane road winded to above. The road was busy with trucks and vans. When we came to the highest point. Here should be a tunnel, they told me. Through the tunnel and then to the right. So I did. Signs also told me, that this was the way to the Genting Highlands. A lot of roadhouses at the exit of the highway, with among them McDonalds.
Now the road became more steep and more windy. Now and then a taxi from Kuala Lumpur passed me from behind to deliver his guests to the casino. Also speed bumps were very popular in the mountains. These are also well known in the Genting Highlands..
The more I came higher, the more the road became steep. Suddenly I drove along some hotels. Now we had to choose a hotel and book a room with a view. But.....all the parking garage was full and....all the parking places were full.
No need to worry!
I stopped at the most expensive hotel "The Genting Hotel", that seemed the best to me. Got out of the car and handed my car keys to the bellboy. I asked him, if he knew a parking place for my car. He replied, that there was a special parking place for the guests of the hotel and that he would park my car. Next step was going to the reception. Booked a room and told the bellboy my room number for the suitcases.

We were high in the mountains. When I draw back the curtains, I see only clouds. A few moments later they are gone. Clouds come and float away. Sometimes I can't even see my car, which must be standing below me..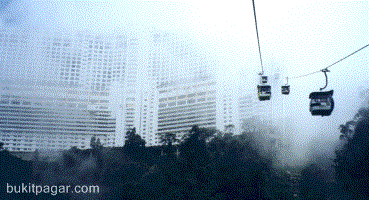 Genting in the mist

That afternoon we wanted to go to the casino: my wife, my daughter (18) and me. The casino is open 24 hours a day, isn't it So, I put on my shirt and tie. My wife and daughter had a dress, who was revealing for Malaysia, I thought.
"You never get in in", I said.
"Of course we do", they replied.
So, we should try. And we went to the entrance of the casino. My two ladies walked right in!!!! And me
"Sorry sir, you're not allowed. You can't go in like this! You have short sleeves. That must be long sleeves. You can rent over there a Batik shirt", and he showed me where to rent a shirt.
So I rented a Batik shirt for RM 5 and I could also get in the casino
I gave us all RM 100 to gamble. First we saw a lot of one armed bandits. Then we saw people playing roulette, blackjack, tai sai or baccarat. My wife and my daughter walked straight to the one armed bandits. The casino hall was extremely big. I saw all kind of restaurants. Some with fastfood; some with Malaysian dishes.
I tried also the one armed bandit, but my attention attracted by the roulette. Not to play, but to have a look! I gave my money to my wife (she was almost broke) and walked to the roulette tables. There were a lot of Chinese around the table. Money was changed into counters to play roulette. Some won and some took their loss without loosing their face. A heap of money was changed again: all banknotes of RM 100. The Chinese are really players. Win or loose: it don't seem to touch them! Money was thrown on the gambling table to change and again they played. I was impressed by their gambling.
So this is what my "Chinese" friend meant by saying "you should go to the casino and see, how Chinese gamble".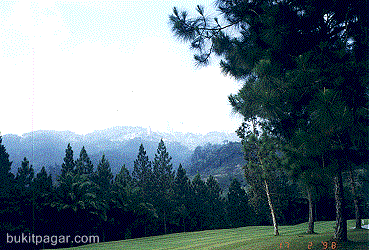 golf course
In Malaysia you have to be 21 to go into the casino. Chinese and other races are allowed to gamble, except Malaysian people, because all Malays in Malaysia are Muslim (Islam). Their religion doesn't allow them to do so. When a Chinese marries a Malaysian girl, he has to choose a new (Malaysian) name. Than he can't go anymore to the casino. To enter the casino you must have an identity card. Sometimes the doorman controls, sometimes they don't. When I was in the casino, there were a lot of bachelors, I think.
Besides the casino, there are a some golf courses on the Genting Highlands for those who love it. You can't sit all day on a chair in the casino!
There's also a theme park with a roller coaster and a carting. The park was for us a little bit old fashioned. During our day in the Genting, there were only a few people. You didn't have to queue up. .
The Chinese Malaysians come to the Genting Highlands for gambling. Outside they don't like it. It's too cold for them (20 degrees). The only people you see outside, are couples with children. They come for the theme park.
In the evening a lot of taxi's are coming from Kuala Lumpur with people, who like to gamble. With money that they have earned that day.
O.......I forgot! My wife lost all the money and my daughter.....she won!!! She bought coloured contact lenses for that money!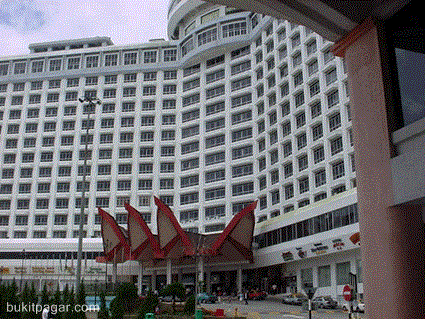 Transport to the Genting.
There's a limousine service available from your hotel. You can book it in advance at:
http://apps.genting.com.my/en/transport/limodetail.asp?step=1&type=limo
Or:
Genting Transport Reservations Centre
(603) 6251 8398 or (603) 6253 1762

Limousine Service Counter
(KLIA Sepang)
(603) 8776 6753 or (603) 8787 4451

Limousine Service Counter
(Genting Highlands)
(603) 6101 1118 Ext 7750 or 7916