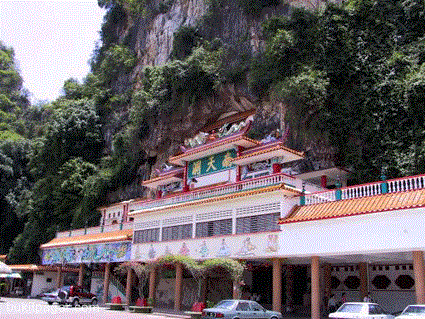 Cave temple
Ipoh is the third city of Malaysia. It's a relatively wealthy city, which earned its fortunes on the tin trade. Ipoh has become a modern metropolis home to over half a million people. It was once a great tin mining centre but today it is the main tourist gateway in the state. It's not hard to find the reason why for this delightful city has a wide range of historic, cultural, and architectural attractions which are relatively concentrated and easily accessible. It has several good museums and limestone cave temples to explore and good recreational facilities
There are a number of excellent attractions you must see on the outskirts of the city, including the Chinese cave temples, Kellie's Castle and the Tambun Hot Springs .
Ipoh is a "Chinese City". A large proportion of its population is Chinese. No wonder as one of Ipoh`s famous citizen is:
Michelle Yeoh. She's the star actress of Crouching Tiger, Hidden Dragon and former Bond girl in Tommorow Never Dies. l
Hidden Dragon.
If you're only coming through on your way to KL or Penang, the train only stops a while so you can run out and observe for about 15 seconds before you have to re-board. If you have time to stop in Ipoh, you should try to find a stall selling Ipoh Hor Fun (a noodle dish).
Ipoh 'Ngah Choy Kai' is a bean sprout and chicken dish. Tou should try this. It's recommended by Lee Chin Thang, who lives in Ipoh and knows what and where to eat. The bean sprouts in Ipoh have a distinct quality, special taste, that is hard to find elsewhere. It is thought to be due to the water from the limestone hills.
Many can be reached by buses from Ipoh to Gopeng and some of the more famous include Perak Tong (on the road north toward Jelapang), Kek Lok Tong and Sam Poh Tong (both on the road to Gopeng and Batu Gajah). Buses leave every hour between KL and Penang to Ipoh and you can also reach it from Taiping and Kuala Kangsar at the same intervals. .
One of the most beautiful and historic buildings in the city and an outstanding example of Moorish architecture is the Ipoh Railway Station. It is one of the most photographed buildings in Malaysia and its architecture so distinguished that it is often referred to as the "Taj Mahal" of Ipoh. It was built in 1917 and this landmark building is fronted by a very attractive floral garden.
Another outstanding landmark building in Ipoh is the State Mosque (Masjid Negeri). One of its key architectural features is its minaret that rises some 125 feet above its mosaic-tiled domes. Masjid Negeri is the largest mosque in Perak. It is a splendid symbol of Islam - the State's official religion - and its fine architecture exercises interest to both foreign and domestic tourists.
The Birch Memorial Tower in Jalan Raja Musa Aziz is also prominent landmark in the city. It was constructed in memory of the British resident. J.W.W. Birch, who was killed at Pasir Salak on November 2nd, 1875.

There is also a children's playground and out-door eateries providing some of Ipoh's better known hawker fare.
The car number plates in Ipoh begin with the letter A- Historically being a rich tin mining town (as you have rightly mentioned) the first car in Malaysia was registered here. Hence the letter A was given.
The Sam Poh Tong cave temple is located in Gunung Rapat south of Ipoh. The temple is an impressive work of art with statues of Lord Buddha interspersed among the natural stalactites and stalagmites and is reputedly the largest cave temple in Malaysia. The temple dates back to the 1890s and a monk from China, passing through Ipoh found the cave and decided to make it his domicile and a place for meditation. He remained in the temple for 20 years until his death.
The Sam Poh Tong cave temple is still occupied by monks and nuns who dedicate their lives to Buddha. The present temple facade dates back to the 1950s and a climb of 246 steps leads to an open cave with an altar hall and splendid panoramic views of Ipoh and its surroundings. Outside the cave temple is a beautiful Japanese Garden with a pond full of Japanese carps and tortoises. A vegetarian restaurant is also located in the grounds of the temple.
In the Keramat Pulai area, which stretches from the eastern edge of Gunung Rapat to the western edge of Gunung Terandum, besides Sam Poh Tong there are a further six established cave temples. They are Ling Sen Tong, Nam Thian Tong ,Kwan Yin Tong, Kek Long Tong,Chee Chei Buddhist Temple and Sri Muneswari Hindu Temple.
The Perak Tong, a limestone cave temple, is situated at Jalan Kuala Kangsar north of Ipoh. This particular Temple houses more than 40 statues, the centre piece being a 12.8 m high sitting Buddha. Next to it is an altar for Kuan Yin (the goddess of Mercy), Maitreya (the future Buddha vairochana) and others. Beyond the main altar, there is a passage, which leads into the interior of the cave, on the walls of the cave are a number of mystical mural paintings.
The Indian Temple (Kallumalai arul Migu Subramaniam Koil) at Gunung Cheroh, set amongst impressive limestone hills is another cultural attraction and focus for Hindu devotions and Hindu cultural festivals such as Deepavali and Thaipusam are widely celebrated in Ipoh.
Tambun Hot Springs are situated Tanjung Rambutan 15 minutes drive east of the city of Ipoh.
It is a natural spa located at the bottom of a limestone hill. The hot water from a natural spring provides a very refreshing dip or bath. There are facilities available such as saunas and rest rooms.
Kellie's Castle is located in Batu Gajah. It was built by a Scottish planter called William Kellie Smith as a castle of love for his wife. Smith himself was from a small town in Scotland known as Kellas. In 1890, at the age of 20, he arrived in the then undeveloped Malaya.
He made his fortune in tin and rubber and then he returned home to marry his Scottish sweetheart, Agnes, and brought her over to Malaysia in 1903. The following year, the couple was blessed with a daughter named Helen.
For many years after that, Agnes tried to conceive, but to no avail. William Smith desperately wanted a son and heir to take over his empire in the Malay Isles. After many years, Agnes finally gave birth to a son called Anthony in 1915. The birth of his child was the start of even greater success for William Smith. To celebrate Anthony's birth, William Smith decided to expand on his mansion. Smith started planning for a huge castle which he planned to call Kellas House, after his hometown in Scotland.

Because of his fascination with the Hindu religion and the Indian culture, Smith's plans was for this house to share similar architecture to those of Madras, with all its bricks and tiles imported from India. He even employed a big group of Indian laborers to build his dream house, to keep the Kellas House authentically Indian. The mansion is accessible from the main road through a bridge running across a stream.
But it was not only the cost of importing material and laborers from abroad that made the house so fascinating to fascinate locals and travelers alike. Among the many amazing things about Kellie's Castle include an elevator (unheard of in Malaya in those days, the one built in Kellie's Castle is the first in Malaya) which connects right up to the top floor and the existence of two tunnels that run under the river nearby. One of these tunnels connects to the Hindu temple some distance away to the main house. On the second floor, Smith planned to build an indoor tennis court -- an ambitious project even by today's standards. On the highest floor, there is a rooftop courtyard for parties. This castle was to be the hub for entertaining wealthy colonial planters who have settled in Malaya. His house was so unique that it was even mentioned in the London Financier newspaper on 15 September 1911.
Unfortunately for Smith, tragedies struck soon after the construction of the Kellas House begin. A virulent strain of the "Spanish flu" spread from Europe to Asia soon after World War I ended in Europe, killing many of the workers in Kellas Estate. Another seventy workers constructing Smith's dream castle also became victims of the flu. Smith, who has already spent a fortune on his house, lost a lot of money because of this.
In the end, Kellas House was never completed. William Kellie Smith himself died of pneumonia during a short trip to Portugal in 1926. His heartbroken wife decided to pack up and return home to Scotland selling the estate and Kellie's Castle to a British company called Harrisons and Crosfield.
For some reason or other, Kellas Home, later known as Kellie's Castle or even Kellie's Folly to some, was never completed. However, despite more than eighty years of vandalism and neglect until the government refurbished the house in 2000, the building remained a tourist attraction for many years prior to that.
Today, visitors can still "meet" William Kellie Smith and his two children at Kellie's Castle. Sculptures of them are still standing on the exterior wall, but the one of his beloved wife fell off some years ago. For safety reasons however, the tunnels have been sealed off. Apparently, one of Kellie's car is parked somewhere in one of the tunnels! Despite the ravages of time and neglect, the entire estate oozes with romanticism of the colonial era in Malaya.
After visiting Kellie's Castle, do not forget to take a short walk to the Hindu temple constructed by Smith to appease the Gods after his workers died of the Spanish flu. The architecture of the temple is a curious mix of Moorish, Greco-Roman and Indian design. Encapsulated forever in a moment in time is the odd, misplaced figurine of Kellie in his planter's suit and topee among the sixty deities on the temple roof.
Few temples around the country actually owe their existence to a colonial expatriate like this insignificant temple in the outskirts of Batu Gajah. And obviously the Hindu temple held enough fascination for William Smith to build a secret tunnel connecting the temple and his house.
About 20-30 minutes outside of Ipoh, near the town of Gopeng (heading towards KL) lies the 'Gua Tempurung' (gua = cave; tempurung = coconut shell). The cave is opened to visitor and is extremely large with underground rivers. It leads right out to a part of the NSE. It used to be a dwelling place for the communist terrorists. Be prepared to get wet!