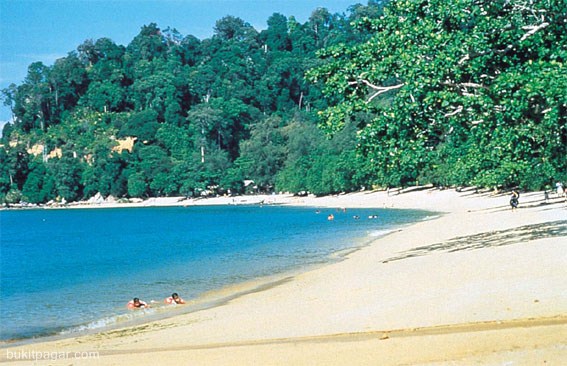 The main island of Pangkor is mainly populated by fisher folk who occupy the eastern coastline. The island is famous for its 'ikan bilis' (anchovies) and squids. The real attraction here however are the enchanting beaches on the western coastline Pantai Puteri Dewi , Teluk Belanga, Teluk Nipah, and Teluk Cempedak are marvellous for swimming or just basking in the sun, in complete privacy admist tranqull surroundings.
Situated 7km from historic Lumut town across the Straits of Malacca, it has for centuries enthralled visitors with her charming beauty, idyllic bays, pristine beaches, and vibrant tropical forests. Hence it comes as no surprise that she has been a welcome stopover for the sea weary, pirates, and adventurers in the old days. In fact, it was at one time ruled by European conquerors such as the Dutch and British yet her natural wonders have remained unscarred and her environment as tranquil and harmonious as ever. Today's Pangkor is a thriving tourist destination that does not reflect her turbulent past.
One of the best ways to see the island is to go on a round island trip van taxi. The trip cost approximately RM30.00-RM50.00. As you travel travel around coastal roads, you will see quaint Malaysian villages with wooden houses on stills under the shade of coconut trees. Now and then, you will catch glimpses of the white sand and the shimmering blue sea. In the forests, you may chance upon shy deer or playful monkeys darting among the branches



Pangkor is a 40 minute ferry ride from Lumut, a coastal town, which is 84km from Ipoh city or a 3 hour drive from Kuala Lumpur. The ferry fare costs a mere few ringgit depending on which part of Pangkor you are going to. There are also scheduled flights via Kuala Lumpur operated by Berjaya Air. This flight is 5 times a week except Tuesday and Thursday. Once there, taxis (Van) are available for most part of the day to take you around. However, please be forewarned that the taxis have no meters, hence you should check the fare before embarking on a ride.
Ferries from Lumut arrive at the Pangkor Village Jetty and from here, if you haven't made prior arrangements with the resort etc, there are taxis ever eager to take passengers across the island to Teluk Nipah or Pasir Bogak costing somewhere between RM15 to RM45. Taxis are not cheap on the island and taxidrivers here are not in the habit of instilling metered rides. It's a bit of a pain as you may have to negotiate with the taxidrivers everytime you hail one. But if you're game for a bit of adventure, hire a motorbike or a bicycle. That'll just about allow you to cover the island in a day. Word of caution though for those not really of 'Tour de Langkawi' material: the island roads are pretty steep in certain areas so make sure you're fit enough to conquer the heat and the slopes. Also, watch out for packs of feral dogs running around on the island - it's a bit of a problem especially around Pangkor Village.
Pangkor Village is a busy little place with lots happening, particularly in the early hours of the morning when fresh produce from fishermen and from mainland are brought in for the local community's daily needs. Toward the end of the village, on the left from the jetty, a few 'kedai kopi' (coffee shops) cater to the local malaysian folk who frequent the place for their breakfast and a little bit of the local gossip. The 'Kuih Badak' is a nice snack to go with a cup of steaming local kopi (coffee).
Kuih Badak is made primarily from sweet potato and flour kneaded,then shaped into a hollow ball and filled with spiced grated coconut fried with a bit of shrimp to give it that special 'zing'




Near Pangkor Village

A
Pan Pacific Resort
B
Airport
C
Lin Ye Kong Tempel
D
Kali Amman Tempel
E
Pangkor Village
F
Batu Berserat
G
Fort Dindings (Kota Belanda)
(old Dutch VOC-fort)
The beaches
But for most travellers to this coastal state, the ultimate destination is Pulau Pangkor, which has enchanting beaches on its western coastline. Among them are Teluk Belanga, Teluk Nipah and Pasir Bogak. There are also quiet coves and untrodden bays at Tortoise Bay, Teluk Nipah and Teluk Chempedak. The island is famous for fish- based resources and activities related to these can be seen around the island. There is a variety of attractive accommodation

The most beautiful beaches are:

| | | |
| --- | --- | --- |
| - | | Coral Bay |
| - | | Beach of Fairy Princess (owner: Pan Pacific Resort) |
| - | | Teluk Ketapang |
| - | | Pasir Bogak |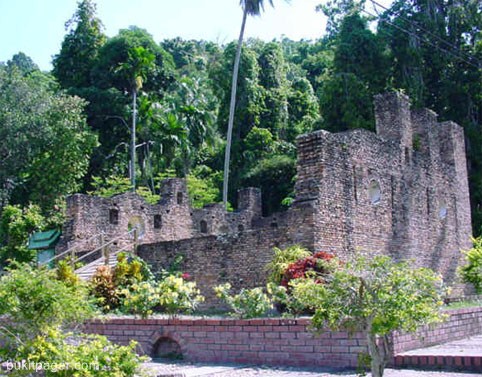 Fort Dindings (Kota Belanda)
At the end of Pangkor Village, there's a road that leads towards the Dutch Fort - walking distance, some 3kms or so. If you're unsure, just ask the locals for directions. The Dutch Fort was built in 1670 as a strong point and a tin store.
This excerpt is taken from 'Islands of Malaysia' by Mike Gibby and is taken from an account dated 1689, "The fort is built 4-square, ... The walls are of a good height, of about thirty feet, and covered overhead like a dwelling house ... There may be about twelve or fourteen guns in it ... mounted on a strong platform. Here is a Governor and about twenty or thirty soldiers, who all lodge in the fort. About a hundred yards from the Fort on the bay by the sea there is a low timbered house, where the Governor abides all the daytime"
The Dutch attempted to monopolise the lucrative tin trade but despite the presence of the fort, smuggling of tin continued. Disgruntled local leaders frequently attacked the fort which eventually led the Dutch to abandon the area in 1690. Today, the Museum Department has reconstructed the Fort and it stands in its original foundations. On the right of the fort there is a little path leading into, what seems like a dead end.
This is the entrance into a secluded bit of haven called Tiger Rock. Tiger Rock is so named for not far from the Fort lies a large boulder with a carving dating back to the Dutch era. This was carved in memory of a small boy who was taken away by tiger. To the locals, the rock is known as Batu Bersurat.

Tiger Rock
Lin Ye Kong Temple
Built in the honour of Kuan Ying or the Goddess of Mercy. It is built on an outcrop of rock and is located several yards from the road. A rugged and narrow dirt road cut through the lightly forested path to a wooden bridge that leads to the entrance of the shrine.
Location: North of Teluk Nipah
Kali Amman Tempel
The largest, and the only Indian temple of any significance on the island, it is noted as one of the two Indian temples in Malaysia that have the entrance the shrine of the goddess Kali, facing the sea. The other is located on Penang Island. The temple has a short staircase that descends to the sea where worshippers are required to cleanse themselves before entering the hall for worship.
Location: Sungai Pinang Kecil.
Hotel/Resorts:




The Pangkor Island Beach Resort, located on an unspoilt tropical island of Pangkor on the west of Peninsula Malaysia is surrounded by 73 acres of lush tropical forest and provides access to seas teaming with exotic marine life. On this private enclave, the Pangkor Island Beach Resort offers 1.2 kilometers of pristine private beach with emerald green waters. The Pangkor Island beach resort is your holiday haven in Malaysia

Information/reservation

Rooms from USD 60 per night





Situated on Malaysias exotic and private-owned island of Pangkor Laut, the internationally acclaimed Pangkor Laut Resort is surrounded by lush and unspoiled rainforest. The resort has 148 elegantly designed and furnished Malaysian-style villas that perfectly blend in with natural surroundings. All dining venues on the Pangkor Laut Resorts property serve a wide rage of casual light meals to lavish hearty dishes.

Information/reservation

Rooms from USD 170 per night





Book your room at Sherwood Marina Cove Hotel Pangkor with Planet Holiday and save up to 75% OFF normal room rates. Sherwood Marina Cove Hotel Pangkor maintains the meticulous standards required by travel and tour operators worldwide and has the amenities and levels of comfort you would expect from a hotel in its class.

Information/reservation

Rooms from USD 60 per night





Book your room at Swiss Garden Resort and Spa Damai Laut Hotel Pangkor with Planet Holiday and save up to 75% OFF normal room rates. Swiss Garden Resort and Spa Damai Laut Hotel Pangkor maintains the meticulous standards required by travel and tour operators worldwide and has the amenities and levels of comfort you would expect from a hotel in its class.

Information/reservation

Rooms from USD 43 per night





Teluk Dalam Resort is situated on a cove on the northwest of Pangkor Island, which is off the west coast of Peninsular Malaysia. Teluk Dalam Resort offers individual chalets and bungalows with a magnificent view of either the garden or the sea. Every unit comes with full amenities. The resort's facilities include all-day dining outlet, landscaped swimming pool, tennis courts, game room and more.

Information/reservation

Rooms from USD 43 per night