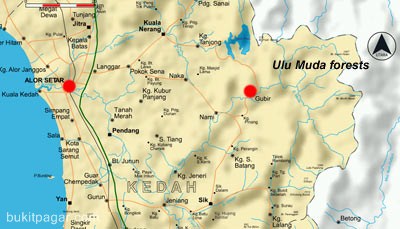 Ulu Muda is the chance for you to see the elephants, tapirs, hornbills, sumatran rhinoceros, deer's or tigers to see in their natural behavior.
You can do forest trekking with local guides and wildlife rangers. Bird watching along forest edges and lake. Walking on scenic jungle trails. Wildlife watching at salt-licks. Trekking for elephants in the wild. Fishing in the Muda lake or if more adventurous, game fishing in the upper reaches of the Muda river or rafting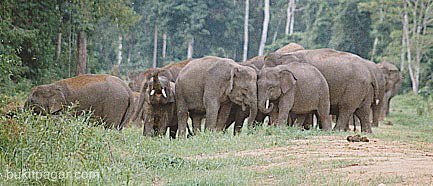 This remote and isolated forested area lies on the north-eastern flank of Kedah, bordering Thailand, with the nearest major town being Alor Setar, 1.5 hours drive away. Overland via the north-south highway, taking the exit at Gurun. Follow the trunk road to Sik (TR K10), then north towards Gulau (TR K8) followed by Gubir (TR K13). For Pedu lake, continue north for another 30 km. From Gurun, follow signs to Desa Utara or Mutiara Pedu Resorts.
There are limited facilities for tourists, though several large resorts have established around Pedu lake. There are accommodations at the MADA rest house cum resort at Gubir. Being both cheap and convenient advance bookings are necessary.
Several local restaurant are located at Gubir and closer to Pedu lake. Boats and guides can be organized from your accommodation or at the village coop jetty (on Muda lake) where you can hire small boats, guides, life-jackets, etc. There is also a small car park with 24 hour guards so overnight parking is safe and bringing your own transport is recommended. To explore the forest trails, guides are available from the coffee shops in Gubir.
Alternatively there are also travel packages for your convenience that offers some interesting nature tours, including jungle treks to observe elephants in the wild
One of the most popular nature experiences. An adventure through the jungles of Ulu Muda. Overnight camps, treks, and wildlife spotting are the essential ingredients. This is one of the best ways to soak in the atmosphere of the Malaysian rainforest. Skilled wildlife scouts will accompany the tours and their task is to locate herds of elephants in the jungle. Treks will be planned each day to give you a glimpse of one of the region's most endangered species.
A number of salt licks and hot mineral springs scattered around are important sources of mineral and vitamin supplements and are frequented by a variety of wildlife. Sira Hangat, possibly the largest mineral spring in Malaysia is a great place to set camp.
A special program can be laid down for those not feint hearted. This 4 days outing will take you trekking through the Ulu Muda jungles; you will learn about the jungles and how to survive it; and above all, you will learn to enjoy our jungles! Group size is no more than 20 on this program.
For those short of time, spend a day out on the boat and treks around the wildlife salt-licks. A good opportunity for birding along the riverbanks and jungle trails. The early part of the year is usually the flowering season for northern forests, and by mid-year many forest fruits abound. The latter would be an excellent opportunity to catch the many different fruit-eating birds.
You can hire a small boat, guide and life jackets at the village coop jetty (on Muda lake). Sometimes it's also possible to arrange it at the reception of your hotel.
if you want to make a special tour, then it can be organized by:
High Adventure Travel (Kedah)
Jalan Kem Gubir, Mukim Sik, Kota Aur, 08210, Kedah
Phone: 04 7522 590
Fax: 04 7522 590